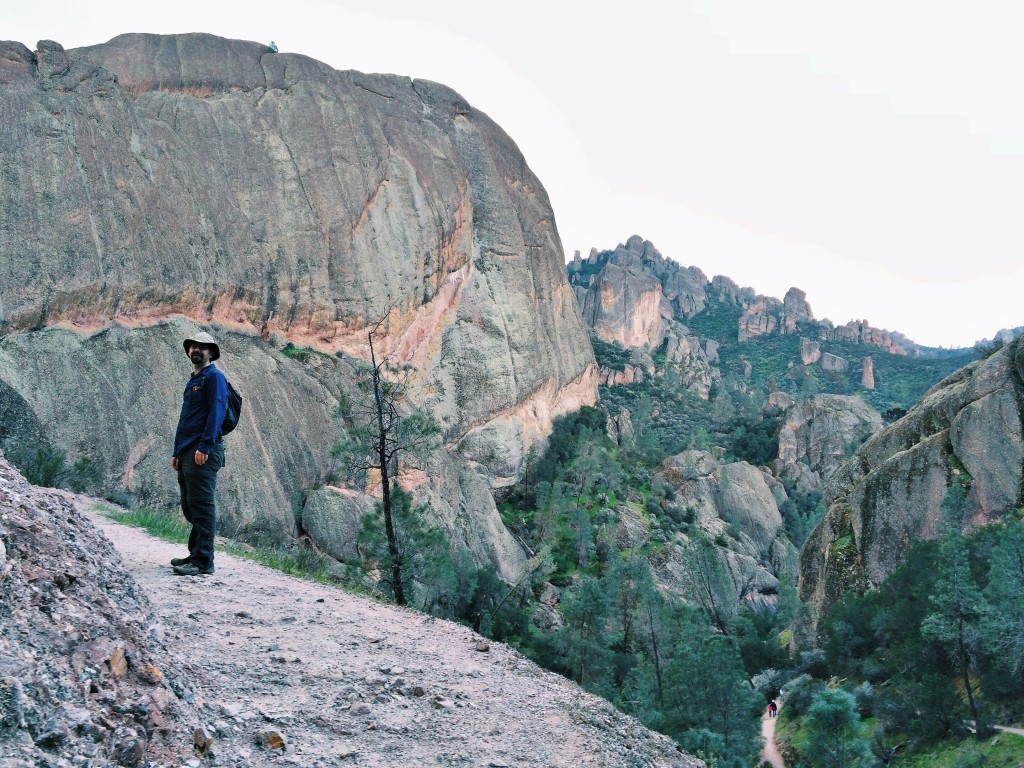 I can't believe it's been months since I last updated this blog. Vacation and school got in the way but hopefully I'll be back on a regular schedule now. Anyway, back in February 2015 Nate and I headed to Pinnacles National Park for an overnight trip. If you haven't been to the Pinnacles before get in your car  and head there now. But not in the summer , it's much too hot. Don't forget a headlamp also because the caves are a welcoming break from the heat but they are very dark and the headlamps will help you find your way.
When I put this on my list it wasn't necessarily because the campsite was so fabulous that I *needed* to camp there,  instead it was on my list as a means of getting as much hiking in as we could at the Pinnacles. The campground ended up being really nice though. Part of the campsites are open area sites, with numerous campsites set up and then the other half are single sites along the drive, with some hidden among trees. I heard a rumor that there was a pool also, but we didn't get that far with our inquiries. We were there for the hiking not the pool. We quickly set up our tent (right by a small creek which was nice but in the summer I'm betting the creek is just a breeding ground for mosquitoes) and headed out on our first hike. The only downside to the campground I can see is that you do have to drive to get to the closest trail head. There is a trail but it adds another mile or so, one way, to an already full day of hiking. We parked in the Bear Gulch parking lot and headed out on the Condor Gulch Trail. This is a pretty easy trail, it's only about 1.7 miles (one way) and the Condor Gulch Overlook is only a mile into the hike. On our way to the top of this trail we ran into one of the volunteers that help with the condors and we stopped to ask him some questions. We (sadly) didn't see any condors on our weekend there but we're told they are out there. I was feeling pretty good on the hike so I told Nate we should go ahead and attempt the High Peaks trail. Let me tell you that I would not have suggested this trail, had I known what the trail was like. Part of this trail is literally some holes cut into the Pinnacles rock with just a handrail to hang onto.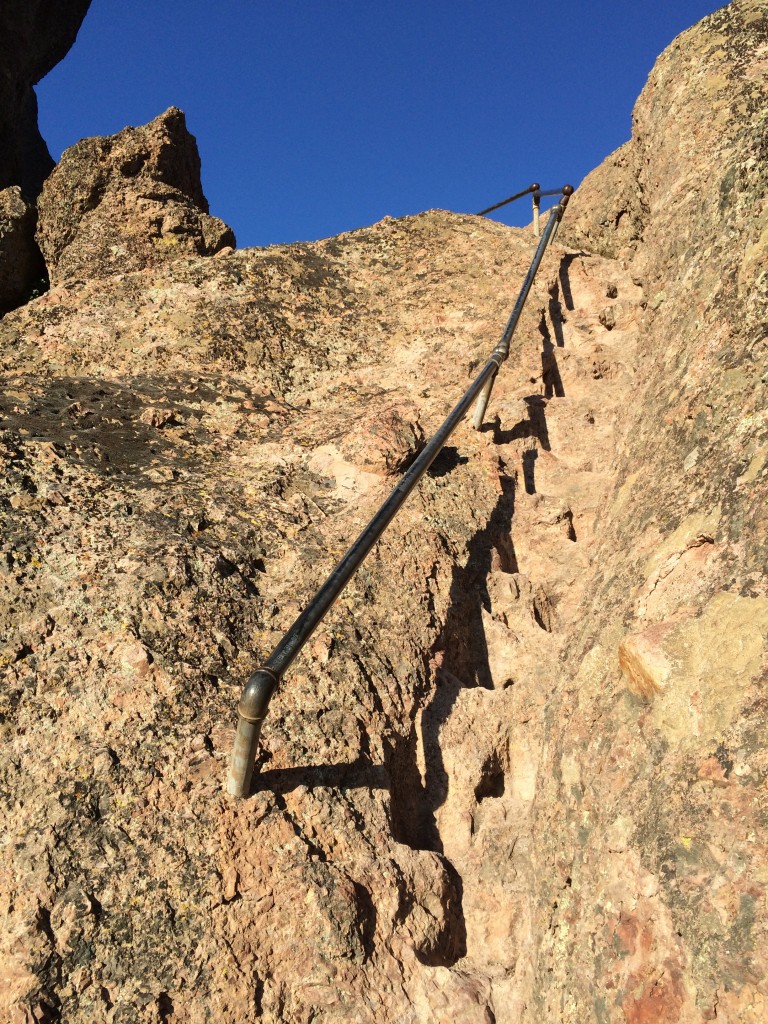 I am so afraid of heights. I would never have chosen this hike…but I made it with only a little bit of crying on my end. (yes, seriously…it was some scary shit) It's not a long stretch of hike that takes you over the top of this peak but it was long enough for me. I couldn't wait to get this portion done with. The views are breathtaking though and I would recommend the hike to anyone despite the questionable hiking terrain in some parts.
This is a 5.3 mile loop and it's pretty moderate difficulty level with the exception of the climb over the peaks. I saw kids doing this hike so I can assume they just aren't afraid of heights like me so you know it is do-able by most people. It does have a 1300 foot elevation climb so it's not one for those that like their hikes flat and easy.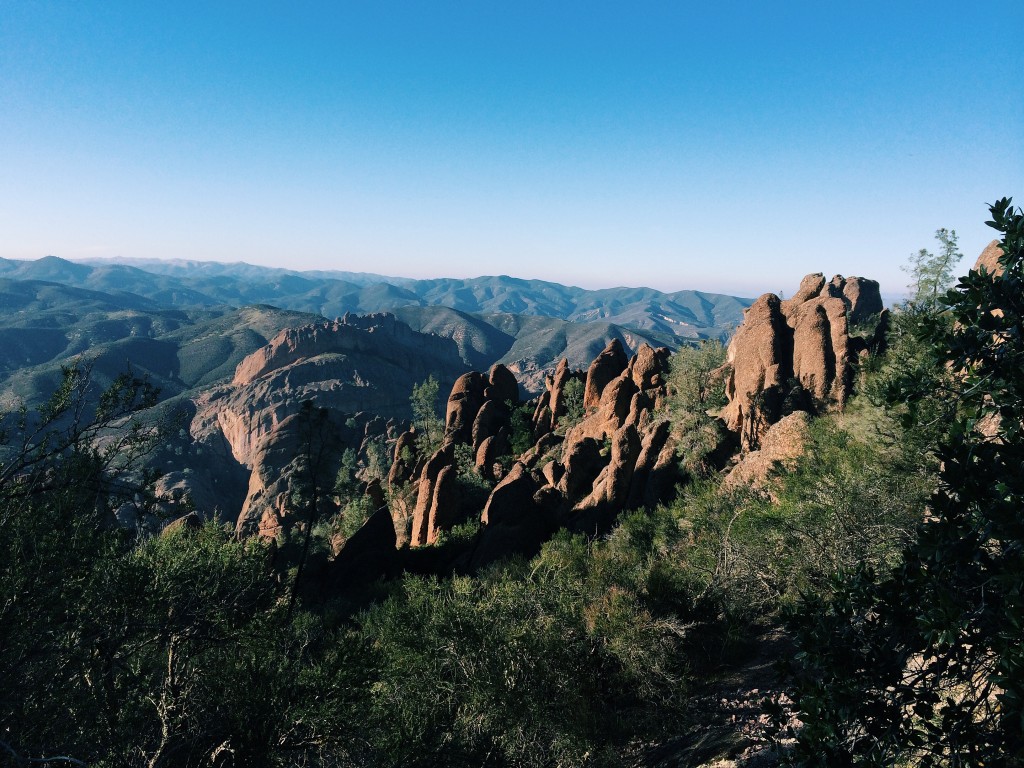 The views from the top can't be beat.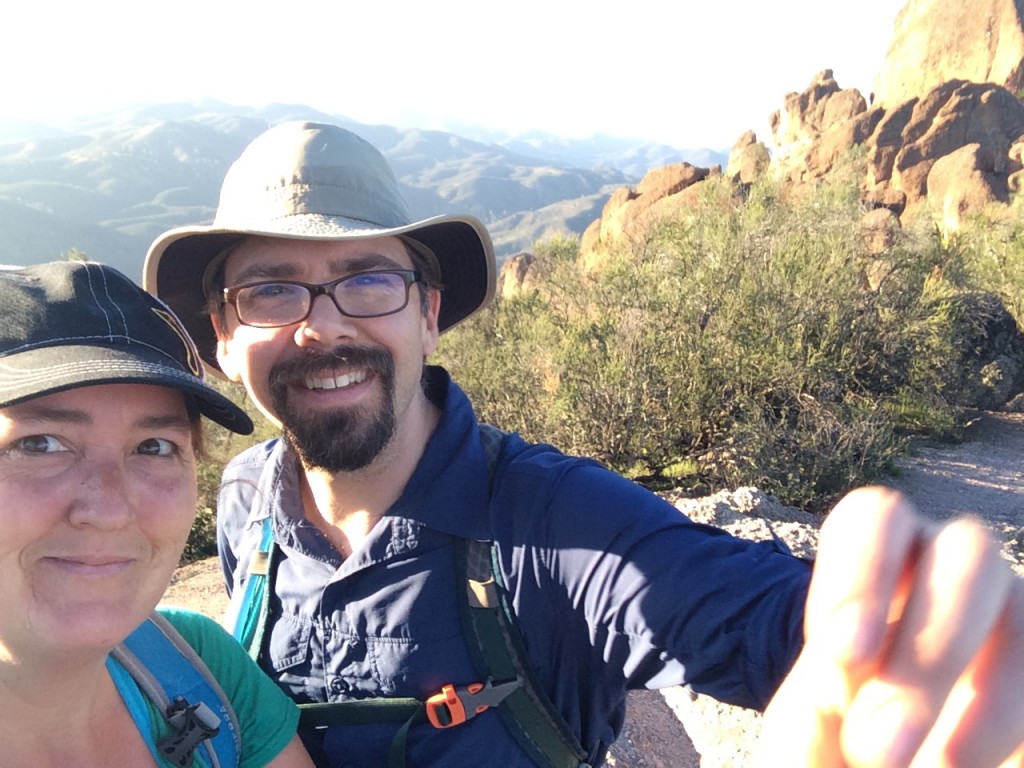 It was a great 3 hour hike (maybe a little more with stopping to take photos) and you get to see both sides of the park on this trail. We opted not to add the Rim Trail that takes you about a mile more around the park and includes the Bear Gulch Cave trail. It was getting late and we wanted to get back to the campground.
Funny story: As I have gotten older I don't like sleeping on the ground. It hurts my back and its cold. So we started taking a air mattress, that was self pumping, on our camping trips. Due to a "cat claw" issue though we had to purchase another one last minute before this trip. Nate ordered it and when we got it, it was much larger then we had expected. It is also the most comfortable sleep I've ever had. I prefer it to my own mattress at home! But…like I said it was much larger then we expected and this is how it fit in the tent. If you are wondering how we closed the tent…we didn't. Not all the way. It wouldn't close. The mattress was too big. It was crazy.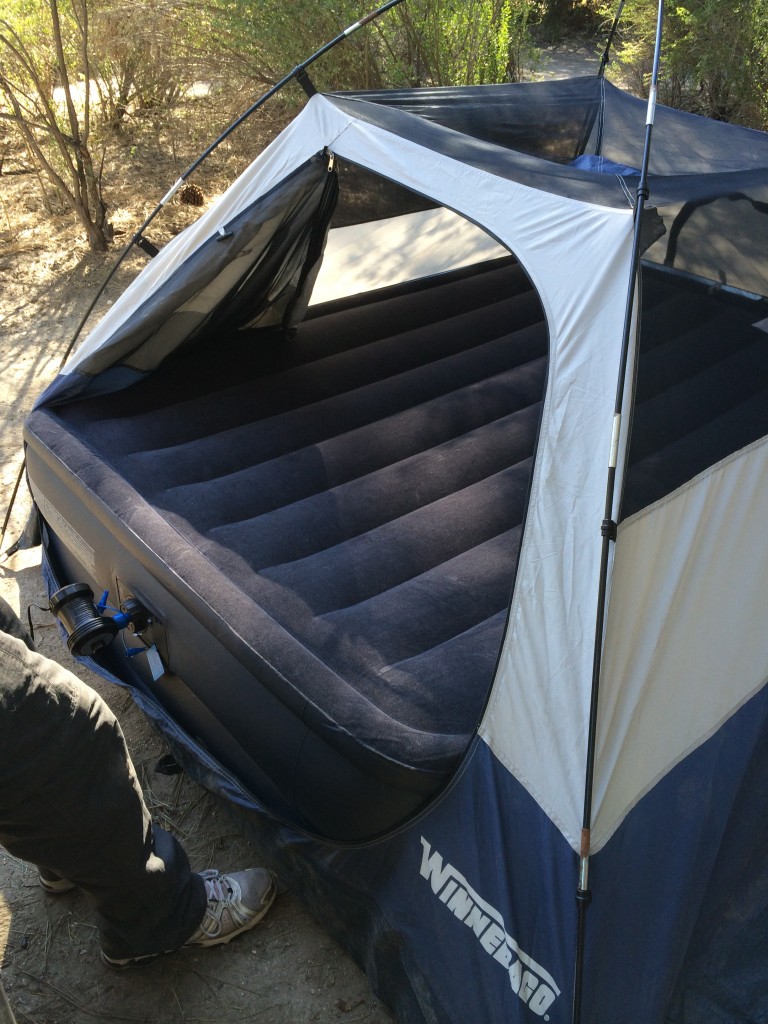 After a comfortable night of sleeping we got up early to do the Old Pinnacles Trail over to the Balconies Cave and then back. We were worried it was going to rain and we wanted to get the loop done before a downpour started. We were excited about this trail because we were going to the Balconies Cave which was one of our favorite parts of a past hike here. You could see the effects of the drought already along this trail. When we did the same hike a few years back there was a creek we had to traverse to get back on the trail in numerous spots. Now they were dried up creek beds. As far as the Old Pinnacle Trail is concerned it's pretty mundane. The Pinnacles around you are gorgeous but the hike offers nothing exciting until you get to the Balconies Cave Trail. Make sure you have a headlamp for this one because you need your hands to maneuver around. the caves. This one in particular is wet and you have to climb and twist your body to get around some areas.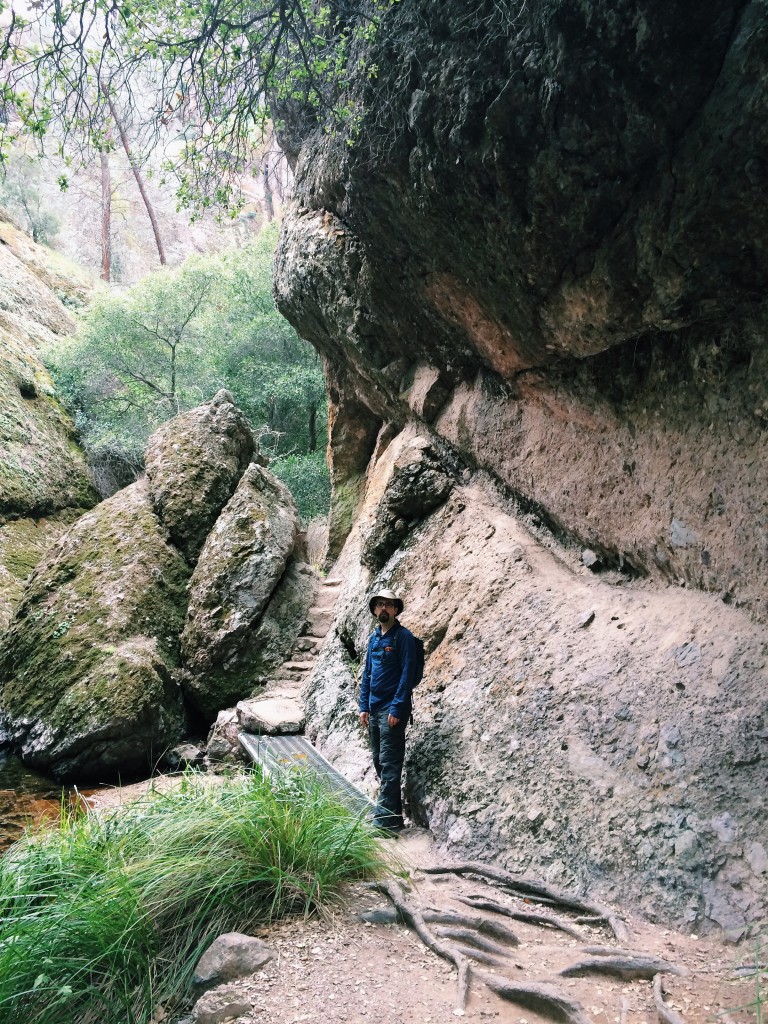 We passed a park ranger on our way out of the cave that asked us if we were trying to get to the Balconies Trail, which we thought we were already on, and so he pointed us in the direction of the loop that goes above the cave and around. This ended up being my favorite part of the hike. The views from this hike were fantastic, especially with the storm clouds moving in. The first photo in this blog entry was taken on that portion of the hike. As was this one: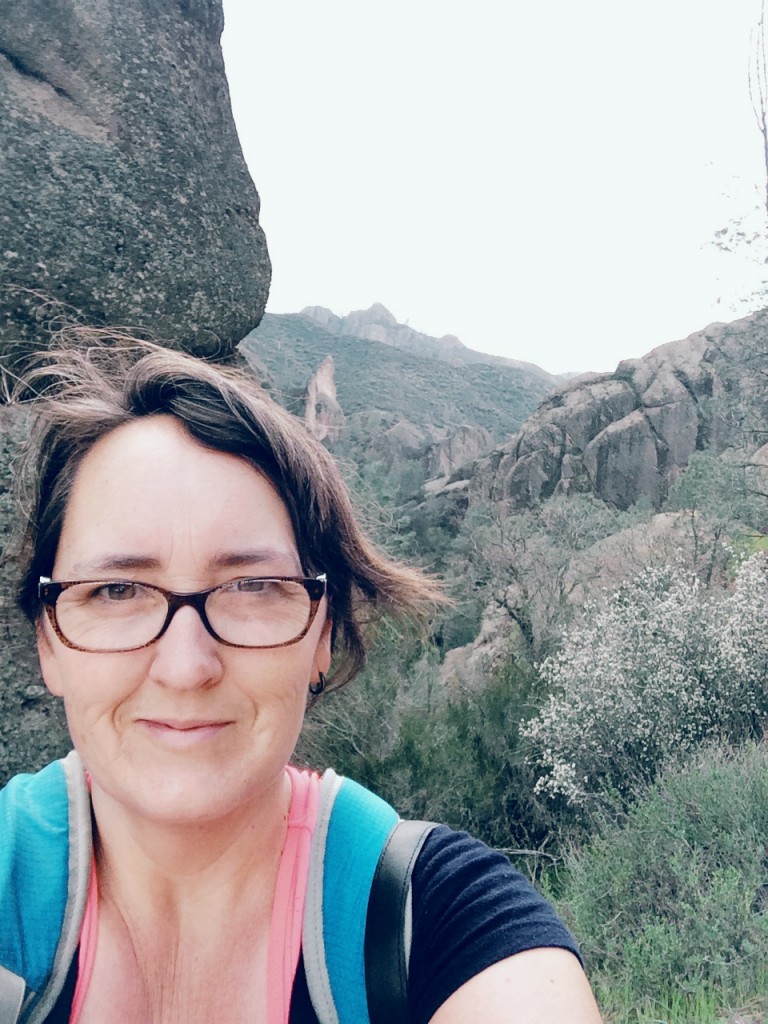 The total miles on this trail is 5.3 also. This one isn't as difficult as the High Peak Trail but the views are just as spectacular.
We made it back to our car just as the rain was starting. Could not have planned it any better:)
Hike 1:
Condor Gulch to High Peaks Loop
5.3 miles round trip, 3 to 5 hours
Elevation: 1,300 feet
Strenuous
Walk through the heart of the Pinnacles rock formations, particularly along the Steep and Narrow section of the High Peaks trail. Add the Rim and Moses Spring trails to extend the loop to 6.1 miles.
Hike 2:
Old Pinnacles Trail to Balconies Cave
5.3 miles round trip, 3 to 5 hours
Elevation: none
Moderate
This sunny hike to Balconies Cave also leads to towering rock formations: Machete Ridge and the Balconies Cliffs. Begin at the Old Pinnacles Trailhead. Flashlight required in the cave.
Thanks for reading.
Jennifer
*Every year I make a list, correlating to my age, of goal/things I want to do that year. The original list can be seen here: List 44. I am currently working my way through my List 45.