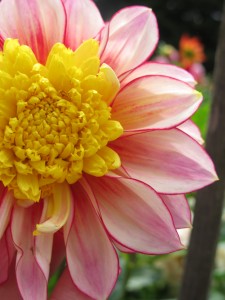 Every year leading up to my birthday I make a list,  like a small bucket list, of things I want to accomplish that year. It usually includes personal goals, travel, places to eat and the such. The  list is made from items on my big life list and then other small goals from other lists I've made.  I like lists and I like having goals, this is how I operate best. Truthfully though I never even get half of the list done. For example, for List 43 I did 9.5 of my goals. 9.5!! And this was one of my better years. I have a couple of years where I didn't do anything on the list. Often the goals were too big. Often times I would forget about the list until I only had 2 months to get everything done. I tend to put lots of travel goals on the list but for a couple of years we struggled financially and so they just weren't possible. Two of the items on list 43 were goals I've included on every  list since List 38. I did them this year though and they were probably the most satisfying for the simple reason that I FINALLY did them!
Anyway.
I tried to be smarter about this year's list. I started making the list in January so that I could give my goals a little more thought. ( Trying to plan 7 trips in a 12 month period when you only have 3 weeks vacation a year is one way of not getting anything on a list done). The one I'm about to post is actually the 5 or 6th version. Also, I was suppose to post this on my birthday as the first post on my new blog.  Only 10 days late!
P.S. I have also already done 2 of the goals on my list and it's only 11 days in…woohoo…go me!
1. Treat myself to an afternoon at a spa
2. Do a beer tour Fort Bragg to Petaluma (the idea came from this article in Sunset magazine)
3. host an Ugly Sweater Xmas party
4. attend the 2015  Chinese New Year Parade in San Francisco
5. have a big 10 year anniversary party
6. go to a roller derby game
7. do a #100 mile challenge (100 miles walked in 6 months)
8. go to the Moss Landing Antique Fair in July
9. take a weekend trip to San Diego
10. bike the boardwalk in San Diego
11. throw an 80's themed party
12. plan a bonfire on Carmel Beach
13. do my first 5K
14. participate in a Color Run
15. Visit Buellton
16. make a piece of art for our house
17. do the movie/dinner night that Montrio's and the Osio holds each Tuesday
18. officially change name
19. visit the San Francisco MOMA ( I chose this right as they were closing for renovations but I still have a year so we'll see if it gets done in time)
20. get to my goal weight
21. Hike Mount Sutro in SF (specifically the south ridge trail & historic trail)
22. Visit Point Reyes Lighthouse
23. Hike in Montana de Oro State Park in SLO
24. Breakfast at Deetjen's
25. spend a weekend in Los Angeles (3 day)
26. see a drive-in movie at Sunset Drive-In (SLO)
27. read 50 books
28. have a breakfast pizza at the Big Sur Bakery in Big Sur
29. eat at The Hart and the Hunter in LA
30. do 12 things (1 each month) off my Pinterest account (recipe, art project, decorating idea, etc.)
31. Camp at Pinnacles National Park
32. go kayaking with Nate again
33. see Golden Gate Bridge at the Battery Spencer View in Marin Headlands
34. bike ride along the American River Parkway in Sacramento
35. have a drink on the Delta King in Sacramento
36. go whale watching
37. camp at Big Basin in Santa Cruz
38. learn to weave (wall weavings)
39. visit the rooftop bar at the new ACE hotel in LA
40. eat at Dona Thomas for brunch in Oakland
41. get a new dining room sideboard
42. do wine tour of Santa Cruz Mountains
43. make cinnamon rolls from scratch
44. make buffalo wings (a friend of mine's recipe in particular)
Looking forward to tackling the list this year. Some of them are already in the works to happen so I have high hopes for this year:)
What are some of your goals for the next year?
-jen