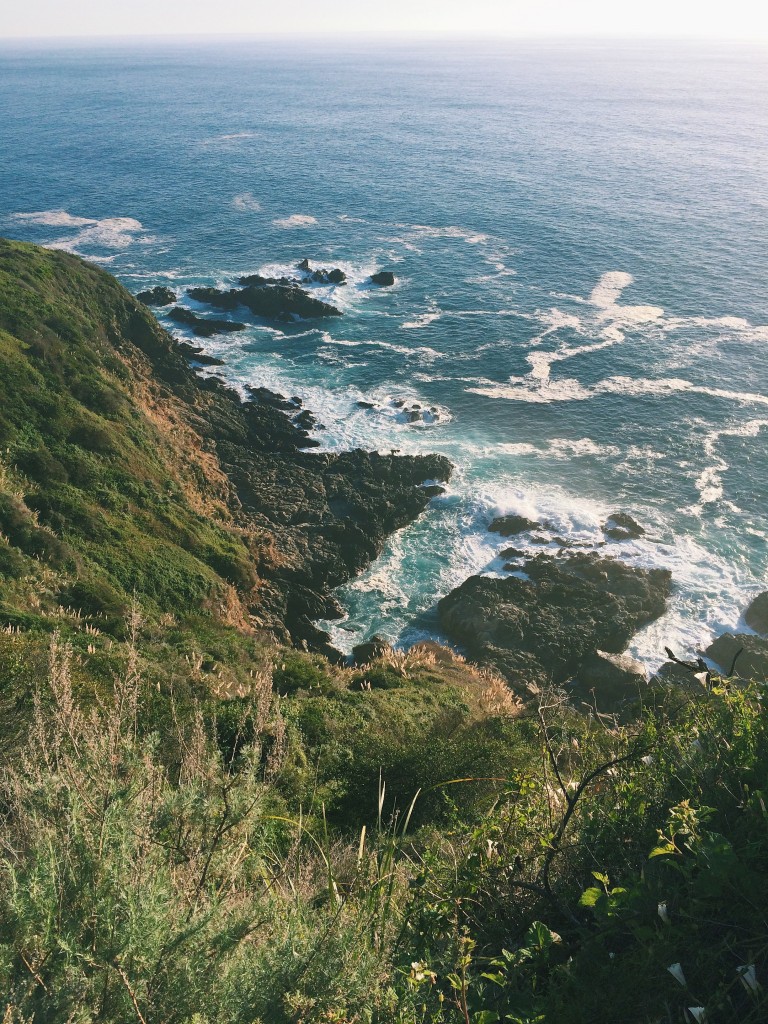 For Valentine's Day I planned a day of hiking for us down in Big Sur. I've never really been into the whole commercial part of this holiday…this isn't to say that I don't like receiving flowers or going to dinner but I never expect anything on Valentine's Day because I already know that my husband loves me all year long. Anyway, this is a hike I've wanted to do for a while but doubted I could do it. Because I decided that this year is the year I stop being afraid of putting myself out there, try new things and push myself more to get out of my comfort zone I made plans for this big hike. It's not big in terms of length but it's ALL uphill to the Tin House. This trail starts out across from the unmarked Partington Cove trail head (a neat, very short trail that takes you to a small cove that, during prohibition ,was rumored to be a favorite spot for alcohol smugglers). The Tanbark Trail is also unmarked and is located across the street. At first glance, it's an unassuming trail but very quickly you are in a redwood canyon  filled with ferns and big boulders while heading inland. This only lasts about half a mile and then you begin your upward climb.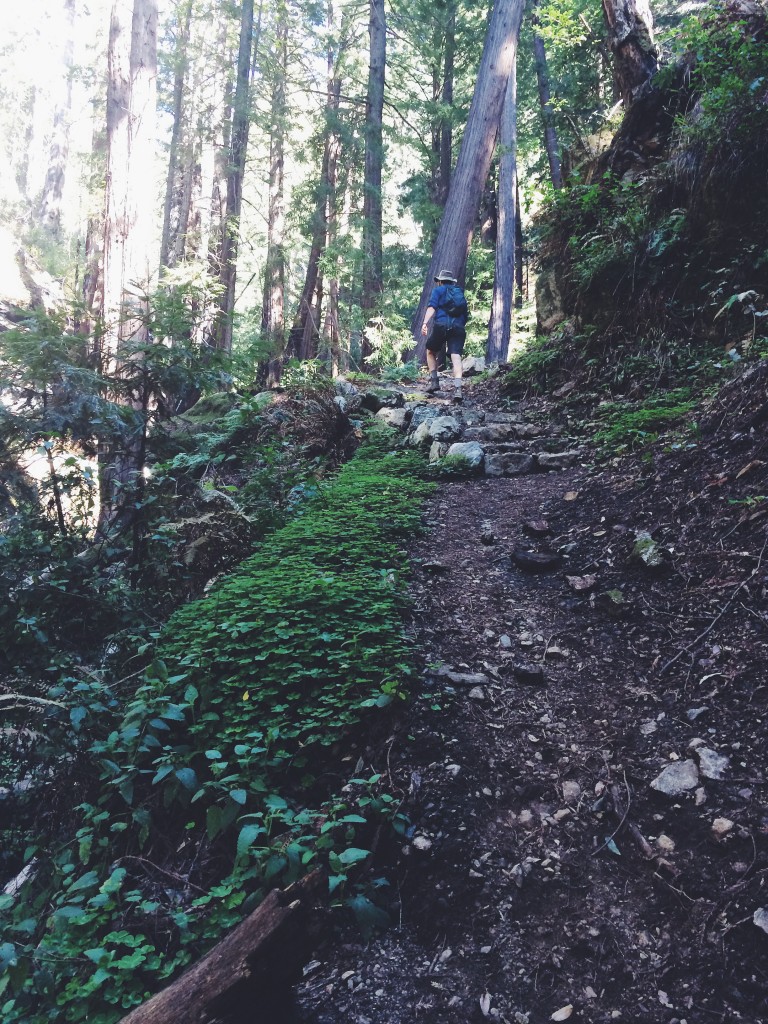 This photo is a perfect depiction of the upward trajectory that the trail takes for 2-3 miles. It evens out a bit but it's still pretty upward until you get to the Tin House.
Midway through the hike we stopped and had lunch on some fallen trees. It was a pretty spectacular view for a Valentine's Day lunch. Sun streaming through the trees, total quiet other than the small brook running though the valley and moss covered trees to sit on. It was a nice reprieve from the uphill climb we had been enduring. This may not be a very long hike but you definitely need to be in shape to get up these hills.
The trail tops out at the junction to the Tin House. The trail actually ends at a fire road but off to the left is the trail that takes you out to the Tin House. Some info about the Tin House from this website "The house has an interesting history and was built in 1944 by Lathrop Brown, a former Congressman from New York, who also built the home above McWay Falls that was finally removed in 1965. The tin sheeting and parts came from two old gas stations, and the house was fully finished inside with rich blue walls in the living room.
The story goes that when the house was completed, the Browns spent one night there and soon discovered that the tin structure made a lot of noise as it expanded and shrank with the temperature changes. They never returned."
At this point the house is in pretty bad conditions due to weather and vandals. Nate was up there about 1 or 2 years ago and I guess it's become even more damaged than when he saw it then. When you walk around to the ocean side of it though the views are spectacular of the coast and Partington Cove area. Standing there enjoying the view I could imagine the lawn parties they may have had here had they stayed here more than the one night. I wish I had seen the house when it was not falling apart and crumbling. I bet it was a pretty awesome sight.
The fire road that takes you back out to the highway is pretty steep but after you come out of the trees the views of the coast are amazing. The only downside of the hike is that when you take this exit out you have to walk the 1/2 a mile back to the car right on Highway 1. With all the turns and narrow road this can be a bit of an adventure. We had to cross and re-cross to keep on the bigger part of the shoulder so that we were safe.
When we got back to the car we decided to head down to Partington Cove because we hadn't done this short hike in a couple of years. We spent a little bit of time sitting on the bench watching the waves and resting for a bit.We probably should have spent a bit more time hanging out there because by the time we got to the Point Lobos area of Highway 1 the traffic was at a standstill and stayed that way for almost an hour (just to go 5 miles) due to numerous events happening in the area. It took so long that we just stopped by Chipotle's and picked up dinner so that we could just stay home the rest of the evening and watch movies. Happy Valentine's Day to us!
Hike length: 5.6 miles (plus another mile for the Partington Cove trail) Elevation Gain:1600 ft.  Trail condition: Excellent and very well maintained. Trail is unmarked but obvious.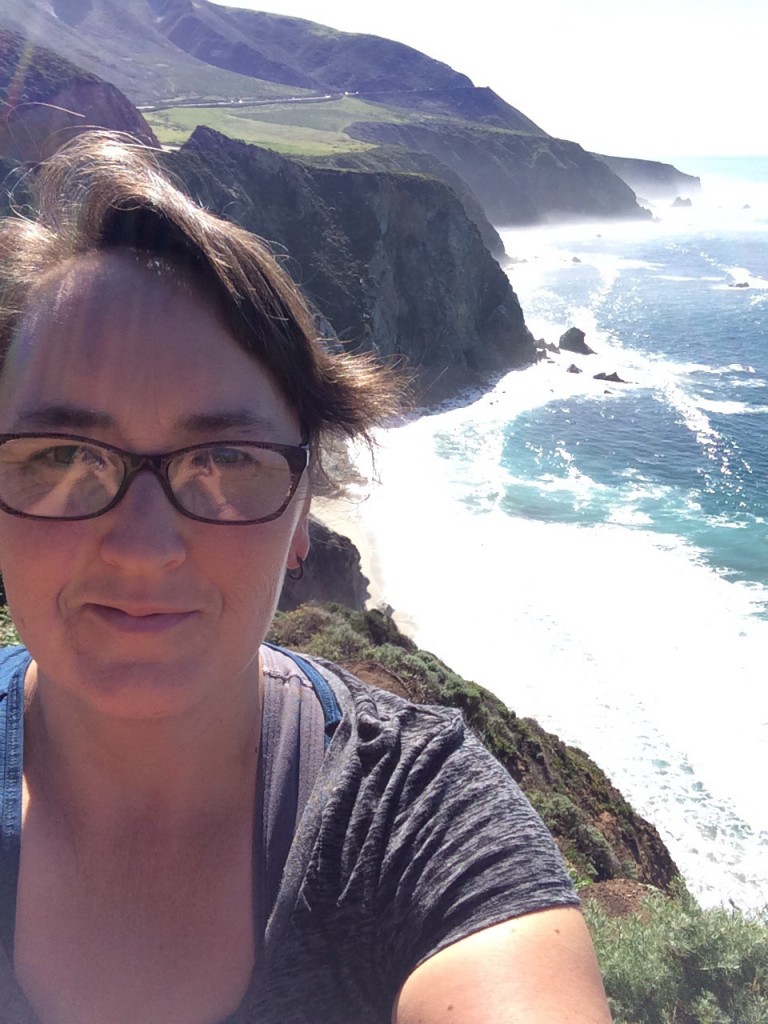 Thanks for reading!